Upholstery
A good re-upholsterer can give furniture new form, take out dated details and give you back a piece of furniture that's better than new.
Your furniture has a history that can't be bought: the first piece of furniture you bought in your marriage or a wing chair that belonged to your grandfather. If a piece has sentimental value, it's worth recovering.
Custom slipcovers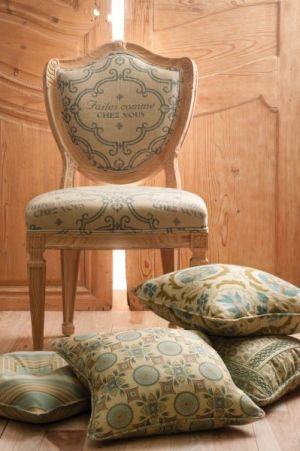 Custom slipcovers can change the look of a room instantly and extend the life of your upholstery. You can express a different style or color palette easily, and then change it back again, if desired.
When the kids are home for summer, slipcovers are ideal. You and your furniture can be as relaxed as they are. Slipcovers are also wonderful for vacation houses and rental homes.
Custom cushions, decorative pillows and tableskirts
Custom cushions, decorative pillows and tableskirts add punch to a room and pull together colors used elsewhere. We offer dozens of custom pillow shapes and sizes, plus tableskirts, table toppers and table runners. Custom shaped cushions can be made for unique furniture pieces, window seats or boats. Marine foam is available for added longevity outdoors.